Introduction
Disclaimer: All the information in this review is actual by March 2020, the time this review was written. If you think this information is out-of-date, please, let us know via email, and we will update the content.
AsianBeautyOnline.com is a mirror of AsiaMe.com, a dating site that connects Western men with Asian women. According to SimilarWeb, the majority of traffic comes from the USA. But people from the other regions of the World, like European ones, and South America also register on this site quite frequently.
AsiaMe website is available since 1998, due to this it has a certain reputation among users. If we take a look at the Trustpilot service, we'll see that the rating of this site is 3.1 which is a little bit above average. SiteJabber service provides us with a number of 2.7.
We think that AsiaMe has this rating because people tend to leave reviews when they are unpleased by something. While if everything is fine, most of the users just forget about writing any reviews. So please, try to keep this in mind while reading the reviews on the sites like those mentioned above.
30+ years

Recommended age

10 minutes

Registration time
Pros:
Affordable pricing;
Android and iOS apps available;
Free sign-up;
Smart matchmaking;
Detailed search filters.
Cons:
Design is a little out-of-date;
Chat invitation pop-ups may irritate;
Mailing may seem expensive.
Sign Up
If you are used to the lengthy questionnaires or a multi-screen home pages of the dating sites, AsianBeautyOnline.com will surprise you. Once you go to this website, you'll see a short questionnaire. It literally takes less than two minutes to set the account up.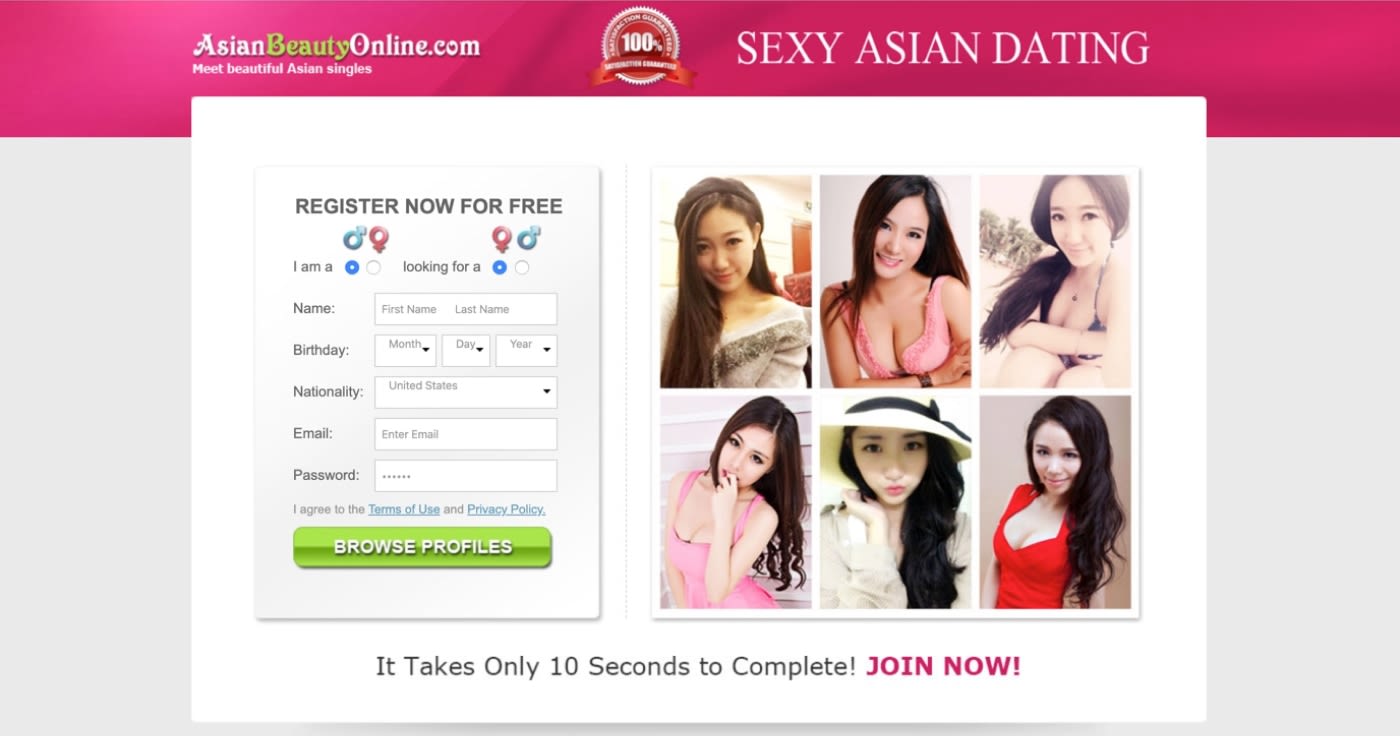 After you have entered all the basic information, you have two scenarios. Some lucky guys have their accounts approved instantly, while others have to wait for the confirmation letter.
Anyway, after your account is approved by the moderator, you are good to go. You can check out the website's functionalities without passing through the questionnaire or filling your profile.
The website will not ask you for any credit card data during the sign-up process, so you can assume it is free. Also, if you would like to receive the personalized Smart Matchmaking recommendations, you will be invited to answer the brief questionnaire.
Personal Profile
After you completed the registration, you can explore the possibilities of the AsiaMe website.
You are free to fill it with any information you want, or you can leave most of the fields blank. If you want to stay anonymous on the website, feel free to use a nickname instead of your real name. You can change all the information on your profile page anytime you want.
Here are some tips that will help you to make your profile attractive for the ladies on AsianBeautyOnline.com:
Add multiple HQ photos. It will be best if they will display your hobby and the way of life you prefer.
Add a colorful description for yourself. Mention every strength there.
Set the proper Smart Match criteria to get the most relevant matches.
Make your own greeting instead of using the ready-made templates with the phrases.
You can make your biography sound a little bit more interesting and poetic like we all do, but don't try to fake your life path.
If you find your soulmate on AsianBeautyOnline.com or have a desire to quit the website for any reason, you can switch your profile off. You can return to this profile anytime, just enter it using the credentials you made up during the registration.
Pricing & Safety
You will be pleased with the pricing range provided by this site. There are no membership fees, and you only need to pay for the services you actually use. The pricing range of AsianBeautyOnline is transparent.
The website accepts the following payment methods:
Visa;
MasterCard;
AmEx;
Disc;
PayPal.
The website is protected with the HTTPS certificate, so your data is most likely to be safe over there. AsianBeautyOnline constantly works on its safety, so there are tips that will help you to use the website without problems. You can find them in the Safety Tips section of the website. Also, all the women accounts pass the verification according to the Privacy Policy and Terms of Use of the site.
Once you enter the website, you will have a welcome bonus: 2 free vouchers you can use for Chat or CamShare. They will be available for 15 days, then they will expire.
You will have 5 minutes of chat or 1 minute of CamShare for each voucher. Then the website will ask you to refill your balance.
Site Features
Just like on the other dating sites, you will have the following possibilities:
Chat with the ladies via Instant Chat;
Send them virtual and real-life gifts;
Use the translation services;
Email them via EMF mail;
Send and receive photos and videos;
Watch the photos and videos in the ladies' accounts.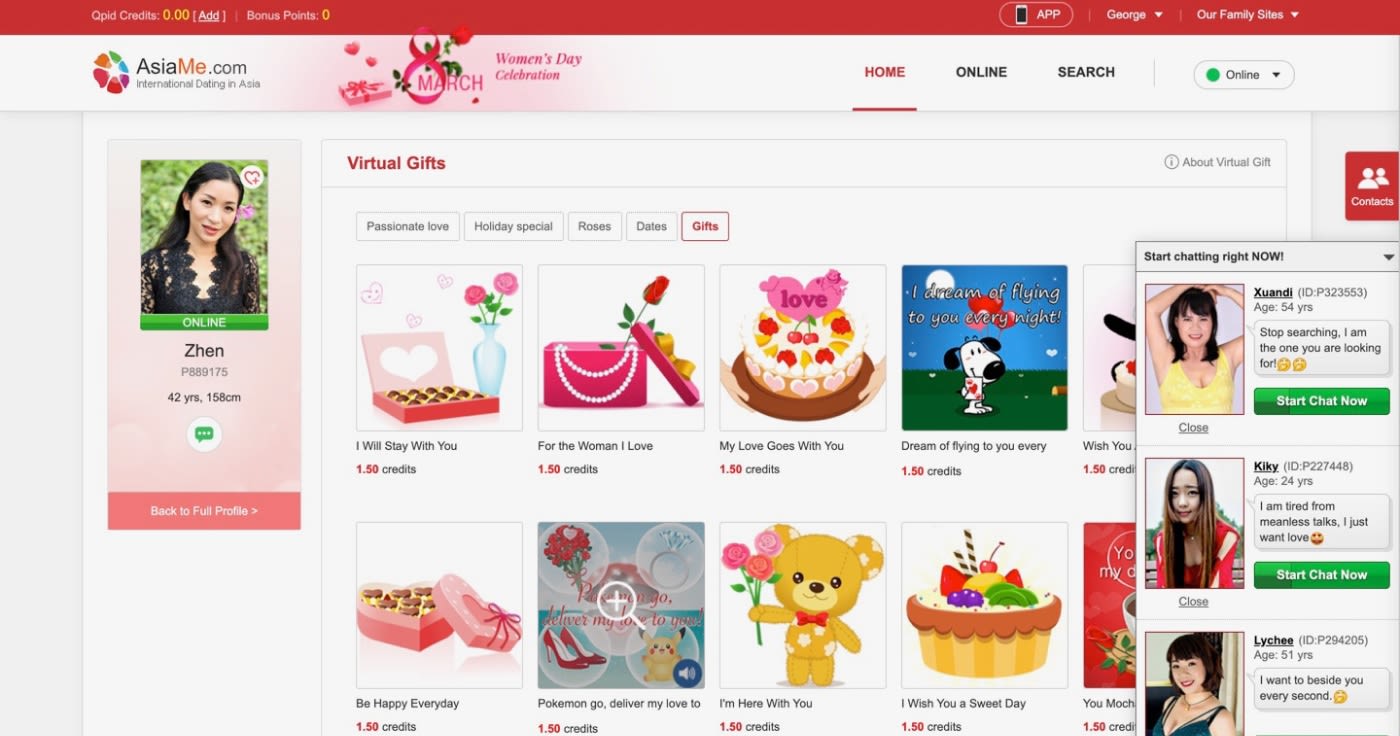 Search & Matchmaking
The search is advanced on the AsianBeautyOnline.com. Here you can adjust all the necessary parameters. Even the Zodiac is available for those who believe in Horoscopes!
There is also a Smart Match feature that comes for free. It shows you the women's profiles according to the preferences you stated in your Match Criteria section.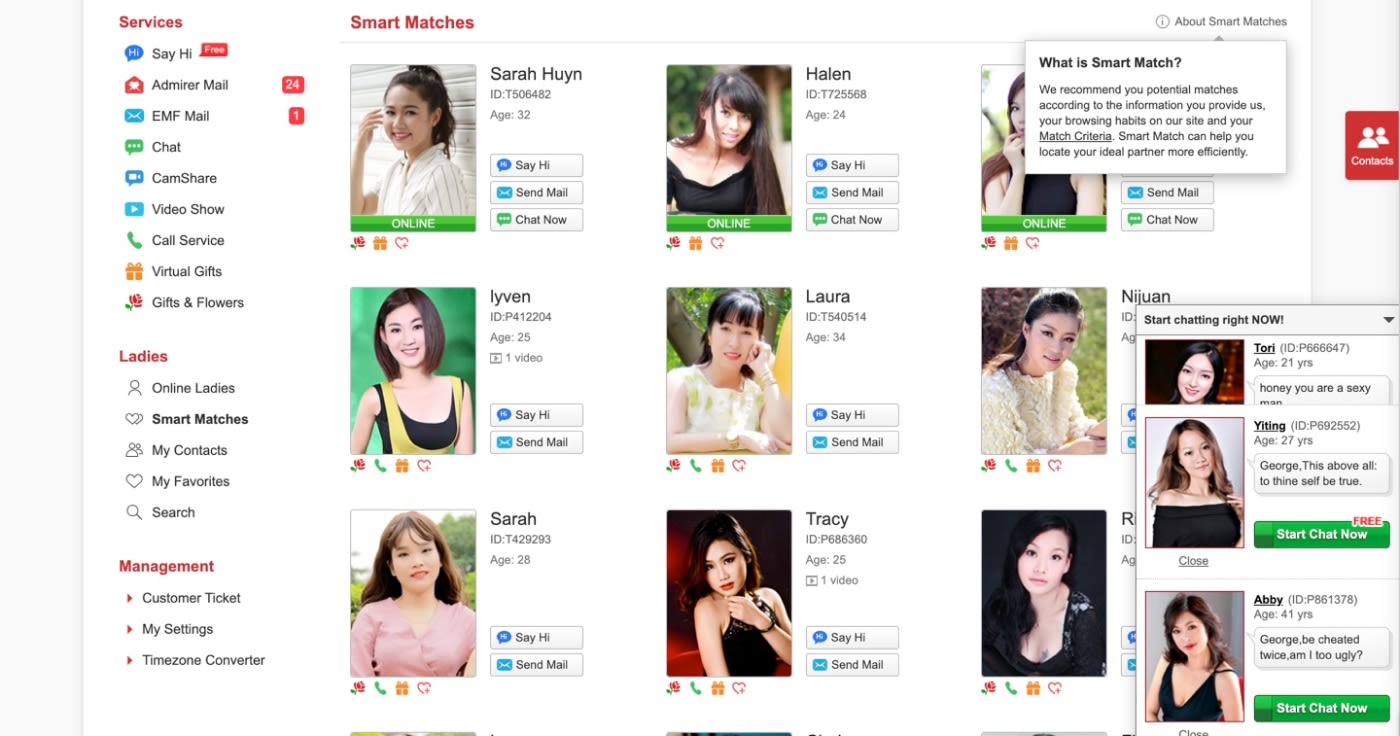 Lady Profiles
The accounts of ladies on AsianBeautyOnline are very detailed and beautiful. Many of them have a Verified sign on their profile. Accounts contain the photos, videos, information about the preferences of a particular lady, and even more.
Some of the photos and videos are hidden. They will be available for you once you buy the very first bunch of credits. The profiles are bright and pleasant-looking so you will be satisfied with the experience.
Communication Features
To use the translation services, find the Call Me button on the woman's profile and see this option. You will be able to state that you need a translation service later.
The translation service comes without any extra fees if you choose to call a woman.
There is also a Say Hi feature that comes for free. You will be able to send a free message to every woman you like. It will have a good-looking background. But there is a trick: you only have to choose the text from the ready-made templates.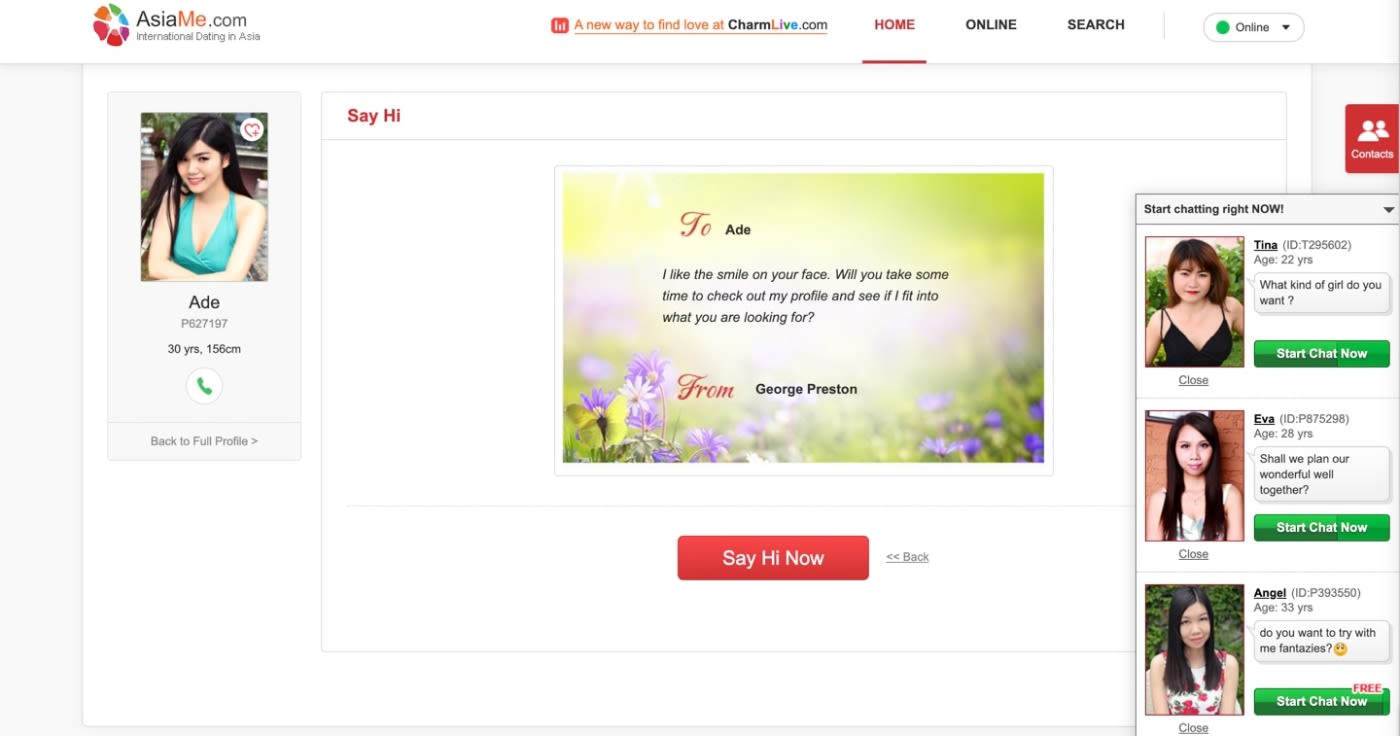 Other Features
There is also a Timezone Converter special feature, for your convenience. Most of the men live in different timezones from Asian women. Using the timezone converter you can forget about messing up with the time.
There is also a feature called the Scene. You can choose a special background for the chat with a particular woman. It will be there for the next 48 hours. This feature is a paid one, of course.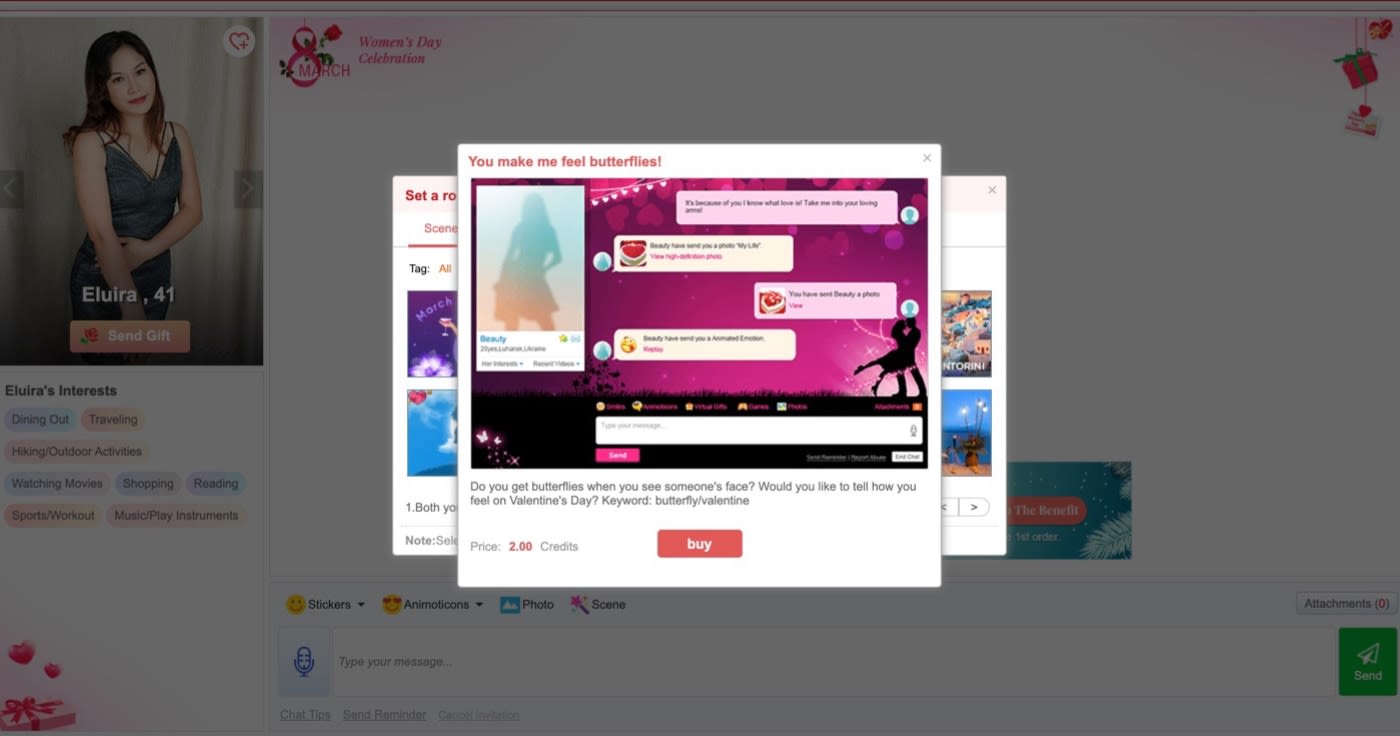 Final Words
AsianBeautyOnline.com is a website that is worth your attention if you are a fan of Asian women. The ladies there are charming and proactive, some of their messages are intriguing and provocative. The pricing is reasonable, especially the fact that you pay only for the services you use.
This website is good for those who have never been registered on any dating websites before. It is simple to understand and use. If you want to try if online dating fits your needs or not, start from AsianBeautyOnline.com!
The website will help you to meet your perfect partner with the help of Smart Match, the translators will do everything so you can understand each other. Whatever your goal on the AsianBeautyOnline.com is, you will most likely to reach it.
Close