AmourFactory: The Best Place To Find A Slavic Girlfriend
In this review, we are going to disclose one of the most famous dating websites: AmourFactory. There every man from the Western countries can find a perfect woman from Ukraine, Russia, Belarus, and so on. If you are a fan of Slavic beauty and character, this is the first place where you should go looking for relationships. This website is easy-looking and will provide you with a pleasant user experience.
30+ years

Recommended age

10 minutes

Registration time
Ukrainian ladies are famous not only for their beauty but for the amazing character and the family-oriented mindset. Most of those women registered on AmourFactory strive to find serious relationships. But if you seek casual chatting, you will find someone sharing your goals too.
There are women of all shapes, sizes, and characters. So everyone will find a mate there. The pleasant design will ease your journey. AmourFactory is a good place to start if you have never visited any dating websites before. Let's disclose each aspect of this place!
Disclaimer: All the information in this review is relevant to the time it was written: April 2020. If you see any out-of-date info, please, let us know via email, and we will update the content.
Creating An Account On AmourFactory
It is an obligatory step before you can start interacting with the stunning women from Ukraine, Russia, and other Slavic countries.
The registration takes no more than 10 minutes, after which you are good to go. All the possibilities of the website open for you since you're done.
That means you can chat with every lady from the screenshot below!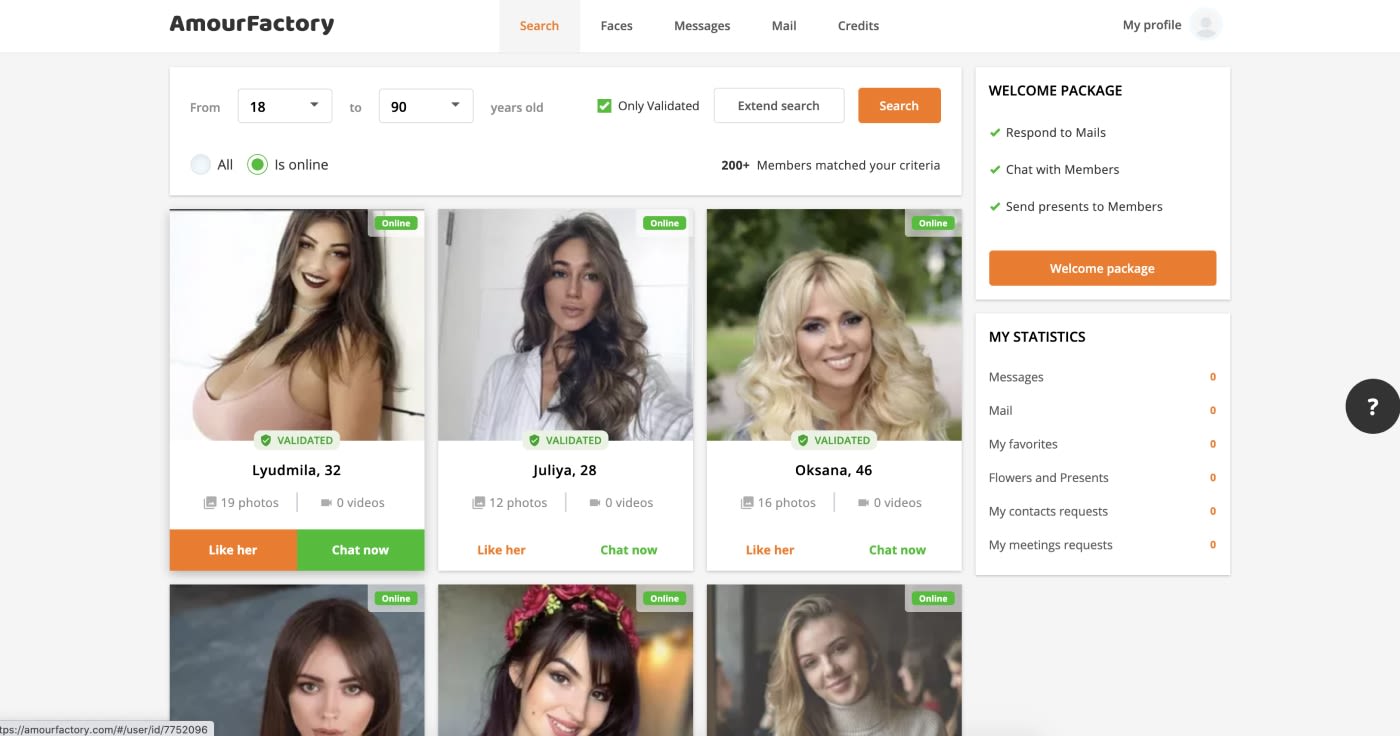 OK, how to get access to the database of stunning ladies? Simply fill in a form with the basic information about you. There will be no questions that need you to answer some private information. Just state your name, email, city, password, and that's all!
After you are done with this, go to your inbox and see a letter from AmourFactory there. If you didn't receive it, check the Spam folder. Then open it up and press the confirmation button. Perfect, you are all set!
Next, if you want a matchmaking algorithm to work really nice for you, please, answer a couple of questions. No need to write anything, it's just a test. You'll need to state some info about yourself and what do you want to see in your future partner, that's all.
If you can't help from browsing females' profiles immediately, you can leave this step for later. But we recommend you to have a decent profile instead of the blank fields to build trust right away.
Making A Good Personal Profile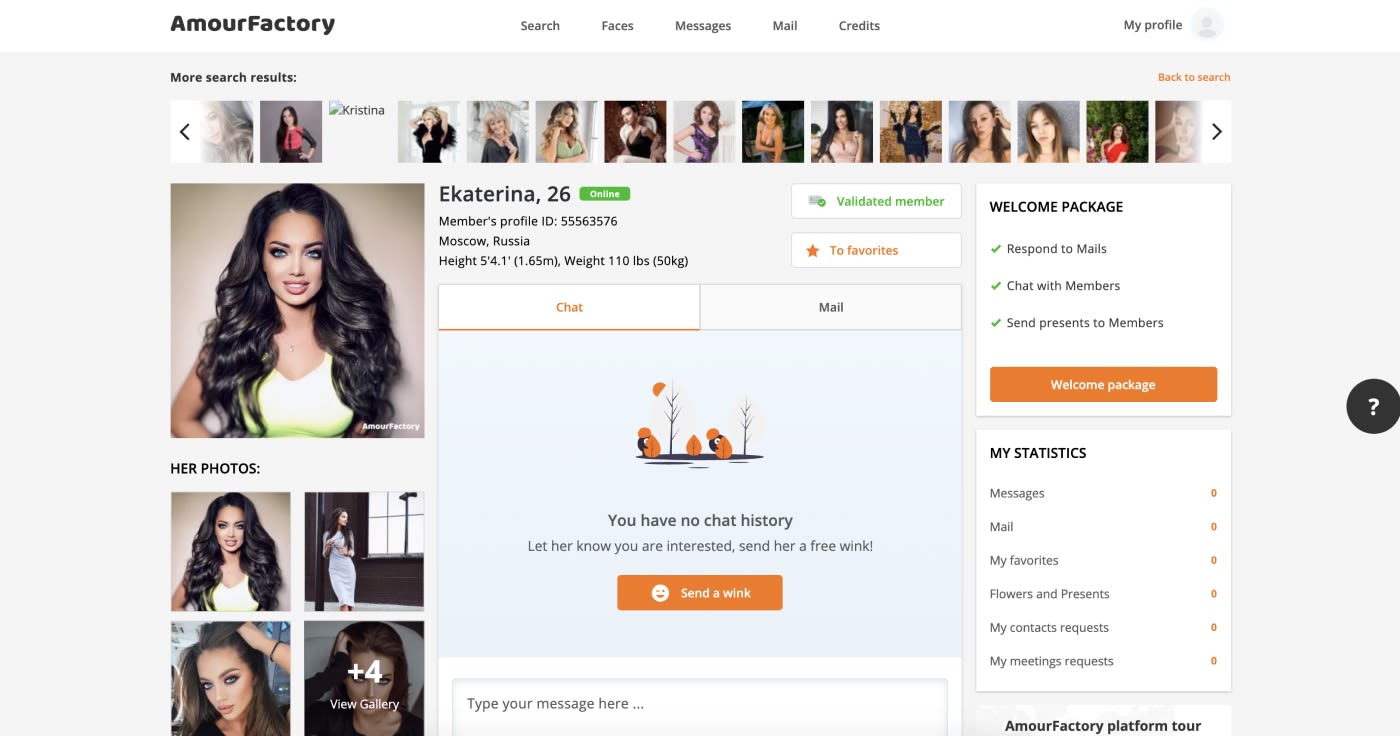 Women pay more attention to the profiles filled with real photos, information, and the verification sign. Yes, the verification is not only for females, but you can also pass it to open the new possibilities and attract more ladies. To do it, simply go to the Verification section and send your documents to the website's administration.
It's best to have your profile filled properly before the Verification. We recommend you to choose high-quality photos, first. Women tend to look at the pics and instantly decide if they want to communicate with the man. Of course, the profile description matters — the fuller it will be, the more women will trust you.
You can state whatever you want there: from your marital status to smoking and drinking habits. There is a self-description field which is optional. We suggest you be creative and funny in this field.
What You Need To Know About Pricing And Safety
Happily, you don't have to enter your credit card data right after the registration. There are also no membership fees. All the communication on AmourFactory runs on the internal currency called credits.
The truth is, you only pay for what you use, and you can refill an account anytime whenever you feel like you need it. AmourFactory accepts the following payment methods: Visa, MasterCard, AmEx, Discover, Maestro cards. People from some countries can also pay with PayPal, CCBill, Sofort, and iDeal.
When you come to the website, feel free to claim 20 free credits. After you run out of them, you'll have to purchase a bundle to continue enjoying the site:
20 credits for $2.99
50 credits for $19.99
150 credits for $44.99
250 credits for $69.99
750 credits for $149.99
AmourFactory uses SSL-encryption to make sure your transactions are safe. The website also has Norton and McAfee safety certificates.
Also, all the ladies need to pass the obligatory ID verification before they can contact you. Anyway, if you feel unsafe, feel free to report on the suspicious account. The admins of AmourFactory will consider your complaint and do their best to protect you. There are high chances that the account of a suspicious person will be deactivated real quick.
Matchmaking And Search Engine Of AmourFactory
There are two kinds of searches on AmourFactory. The first one is simple, where you filter women only by age and their status: online or offline. This kind of search works well if you want nothing but just to chat with a nice woman and spend time nicely. Or you want to feel desired with no further obligations.
The advanced search is much more complicated. If you are picky or crave serious relationships, this tool will help you a lot. There you can filter women by their religion, marital status, presence/absence of children, smoking/drinking habits, and more.
Matchmaking algorithm on AmourFactory tracks your activity and picks women you like the most. Suggestions are displayed as pop-ups in the bottom-left corner of your screen. So pay attention there, maybe your princess is right in another pop-up!
There is also a Tinder-like Faces game. There you see photos of women and state if you Like them or Skip. The ladies receive notifications if you Like them. If you crave chatting with some of them, no need to wait until she Likes you back! Just send a message! Faces is a perfect feature to make you visible.
Ladies' Profiles
AmourFactory has an extensive database.
Due to the high competition, women do their best to make you like them on their profiles. They attach sexy photos and videos, write seductive self-descriptions, and more.
Even if you don't have any credits, you can spend hours simply looking at their accounts. It's best to form the Favorites list so you can choose someone to chat after some time. Or you can start chatting with 10 women at once and feel like you are swimming in females' attention!
Communication Perks And Other Features
Let's disclose how exactly you can get in touch with the stunning ladies from AmourFactory.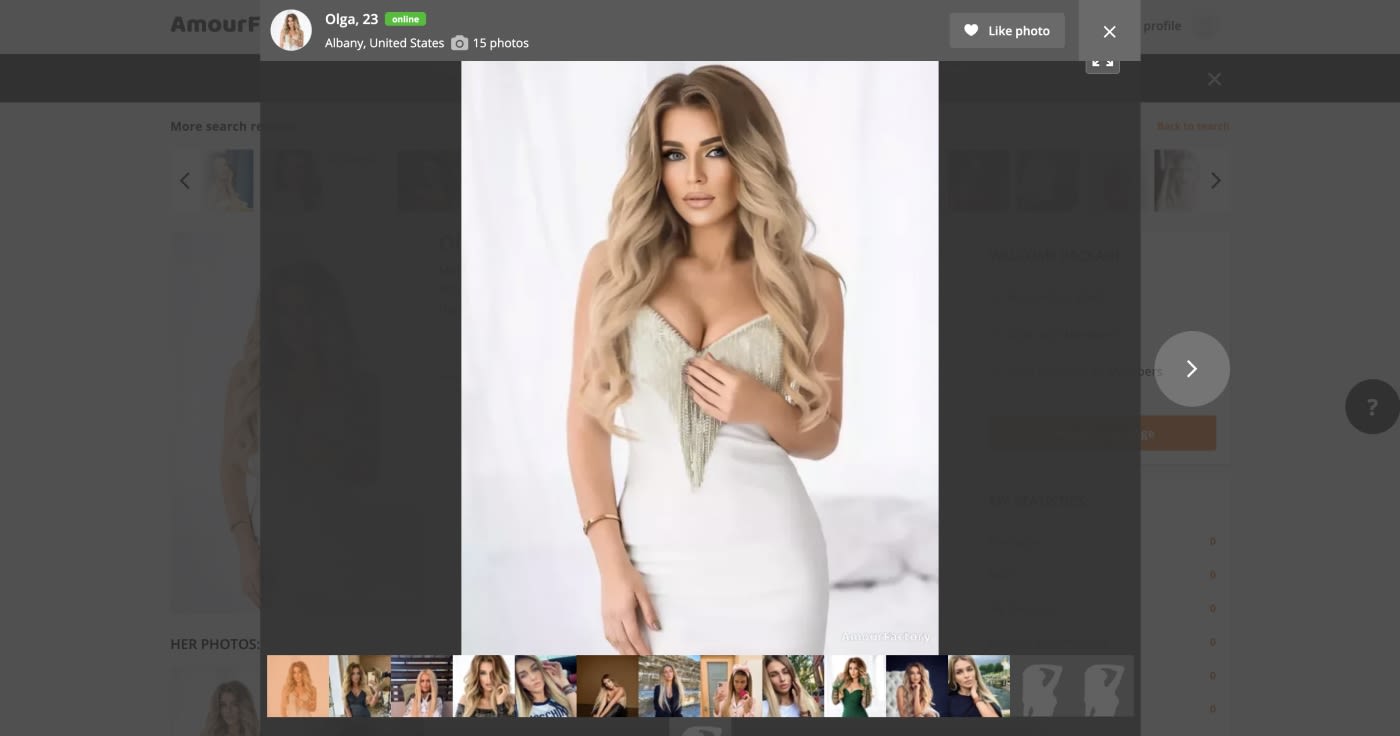 Chat. It's a paid, instant way of communication. You can exchange messages, emoticons, photos, and videos in a real-time mode.
Emailing. This is a paid way to get in touch with a woman like in the same old time of paper lettering. You'll need to write a long letter, attach photos or videos and wait for the long answer.
Real-life gifts and flowers. These are paid ways to make the girl remember you for a very long time.
750 credits for $149.99
Not a woman will resist the gift that contains flowers and her favorite perfumes.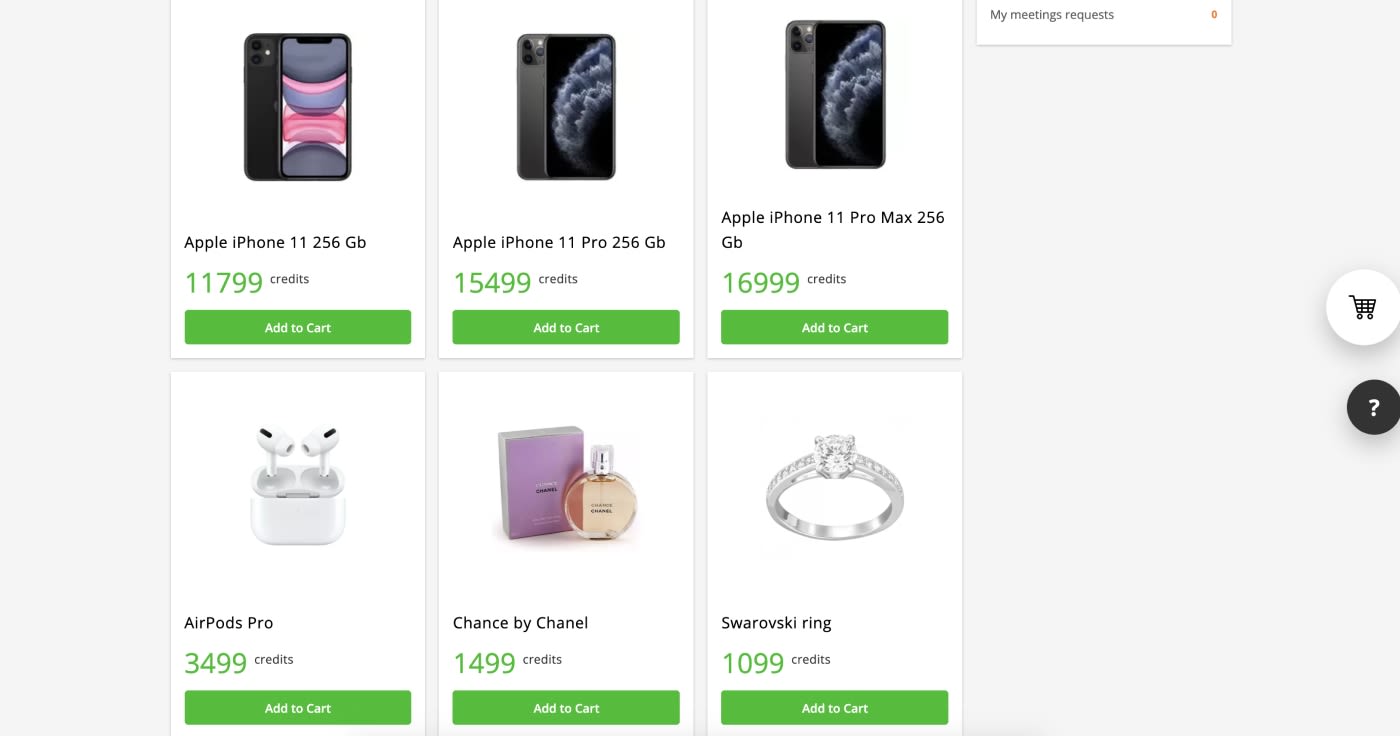 Other perks:
The Statistic section will give you information on all your spendings and communications
You can reach customer support anytime every day
If you feel confused, feel free to go to the FAQ section anytime
Pros:
No credit card needed while signing up
Decent matchmaking
Easy-to-understand website
Cons:
Extra payment methods are not available everywhere
The design comes from the 2000s
Non-active ladies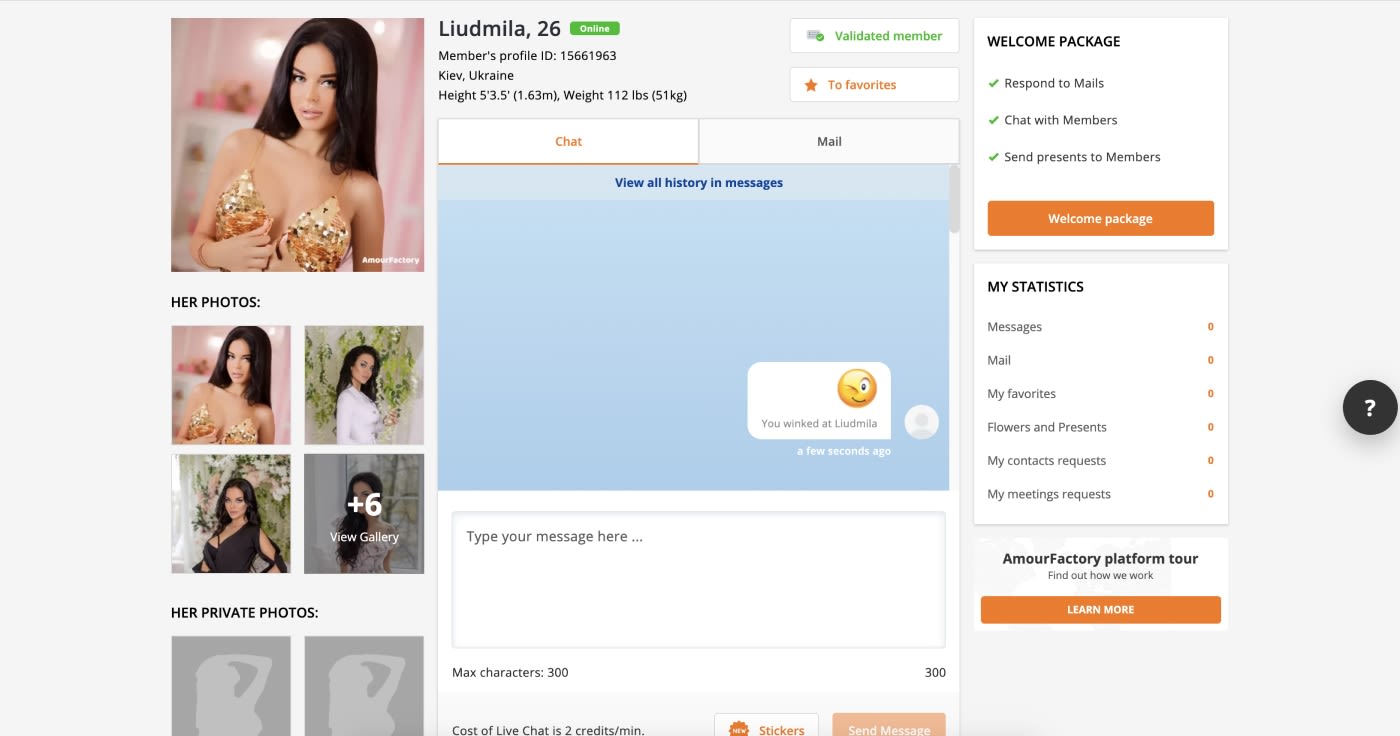 Final words
If you like the beauty and amazing character of Slavic ladies, feel free to register on AmourFactory. There you will find women all sizes and shapes, all craving different goals: from casual chatting to starting a family. You will never get bored on this website.
We think that AmourFactory is one of the best places to register, doesn't matter if you are an experienced dating website user or a newbie. But you better try it on your own instead of blindly believing the reviews. The registration is free and fast anyway.
Close
The best place to find a slavic girlfriend
Visit site