FunChatt: Communication Platform That Enables Western Men to Meet Latinas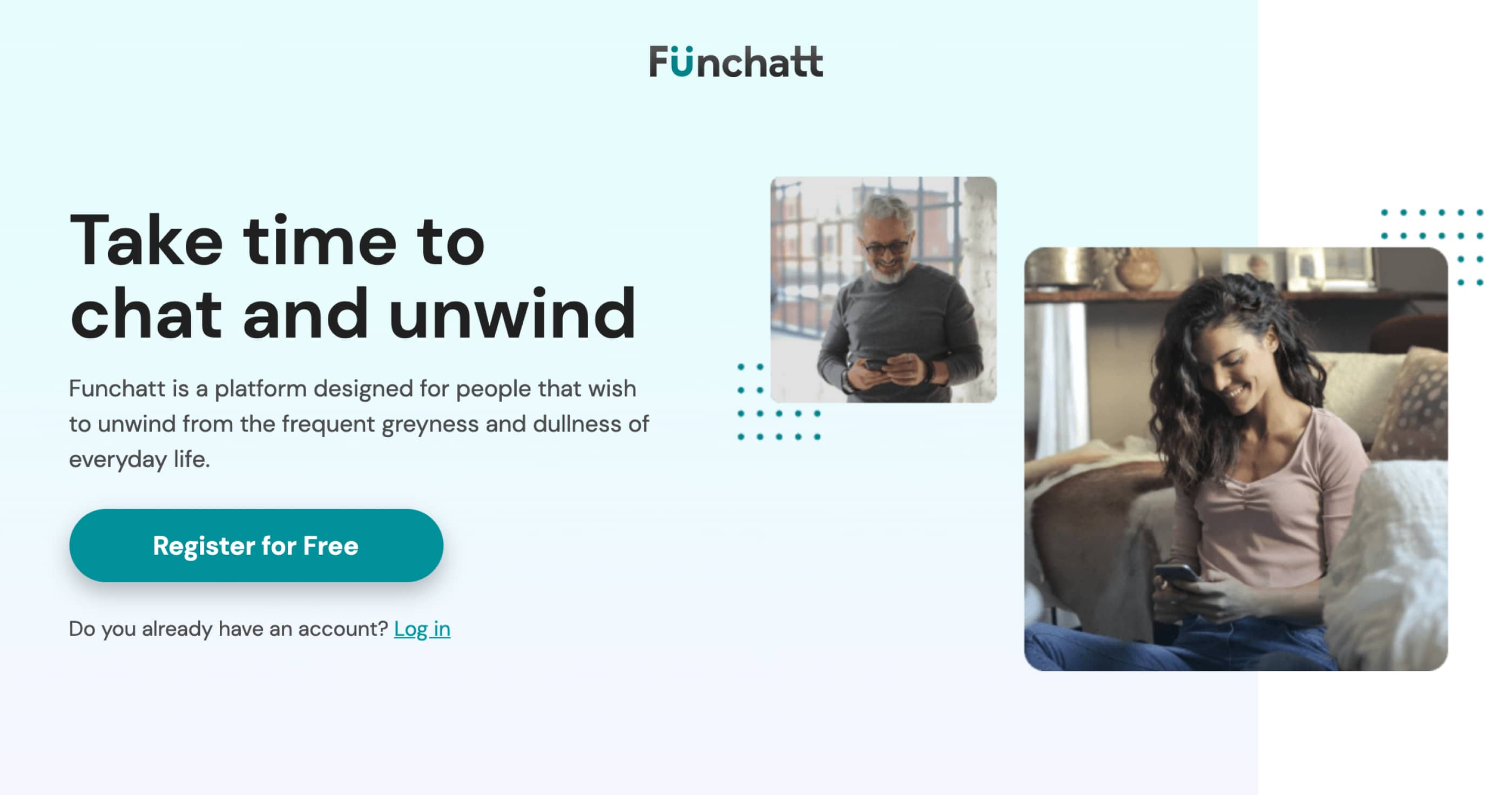 The primary concept behind FunChatt is to use the Internet to connect singles all over the globe with men and women they would never meet if not for the Internet. It is a communication platform, not a dating site, that connects people and develops social connections between men and women from all over the world.
It provides a one-of-a-kind and rewarding experience centered on meaningful conversation and cultural interaction. As a communication platform for Colombians, FunChatt's main purpose is to connect individuals. Women from Venezuela, Colombia, and the United States are among their members. Try FunChatt to share feelings, interact with people, and have fun. Set aside your daily concerns and make time for conversation and pleasure.
30+ years

Recommended age

10 minutes

Registration time
Registration
If you are just a visitor on FunChatt, you will not be able to visit and read through other users' profiles. In order to make new connections, communicate with others, and build long-term relationships, go through the easy registration process on the site to become a registered member. Signing up is completely free and only takes a few minutes to complete. Note that fast registration through social media networks is not presently possible. Your email address and a few other basic details are all that are required to join up.
Visit the home page and fill out the quick registration form to get started. Y Your gender, first name, birthday, a valid email address, and a password are all required. That's it!  To continue, you'll need to confirm your email address. Click on the 'Confirm email' button in the message you received from FunChatt, and you'll be directed to the site where you can complete your registration.
A few easy questions about yourself and your dream mate will follow after you've verified your email address. On this site, you'll be asked a number of things, such as why you're here, what you do for a living, what you like to do for fun, what makes you laugh, and other questions. There are just 15 questions to answer, so don't worry. Other people can better understand who you are reading this information. When you have finished filling out your personal profile, you will notice a section where you may share any information about yourself, such as defining your interests and hobbies, your lifestyle, and describing your personality.
Following that, you will be given a series of questions about the person you are searching for on this website. Through this service, you're more likely to meet beautiful Latinas who share your interests. Afterward, the profiles are sorted to display just those that match your requirements. Their age, personality type, and other vital information will be covered in further questions. Any modifications to this form may be made at any time. Answering these questions can help you find your ideal partner.
Search
Use FunChatt's search engine filters to find your perfect mate. Simple and extended search tools are available on this site. Changing the age criteria, online/offline statuses, and requesting to only display Trusted members in a simple search may help you narrow down the results if you are not completely sure whom you are looking for.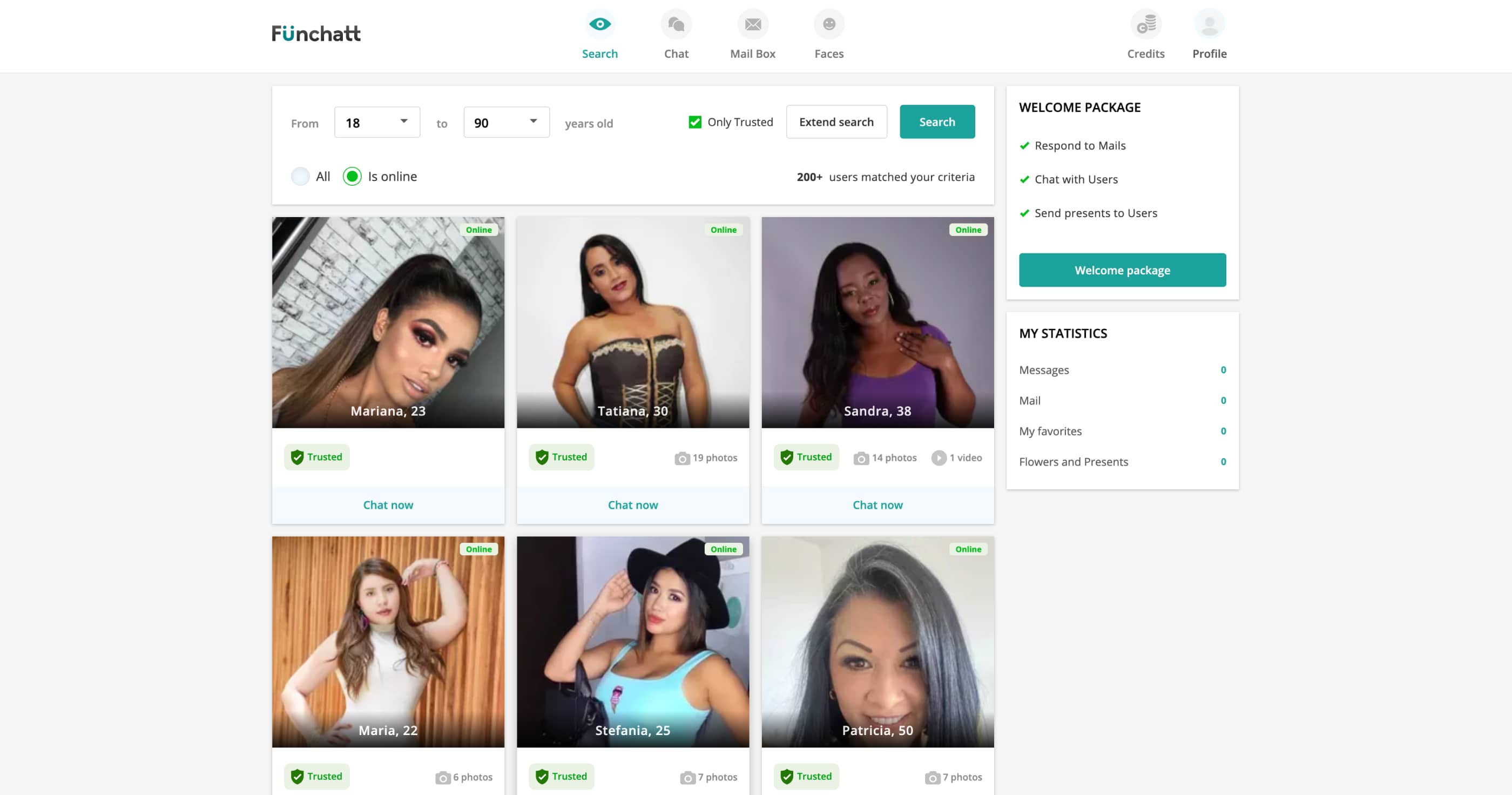 Alternatively, you may narrow down your results to ladies who share your interests if you know exactly what kind of person you want to meet. Use criteria such as country and city, marital status, children, education, bad habits, and religious views to narrow down your findings. Similar to a basic option, you may limit your results to just Trusted and Online people.
Aside from that, FunChatt offers an interactive feature called Faces. Clicking the Faces option in the top menu on the main page will show you a number of women's pictures that you may like or skip. You may learn more about the girl by visiting her profile and reading about her. Send a wink or a private message if you'd like to. Add someone to your favorites list if you wish to chat with them later. If, on the other hand, the profile didn't catch your attention, you may just skip it and continue your search.
Communication Tools
You may communicate more effectively and conveniently using FunChatt's communication tools. Use the following options to get to know your online girlfriend better:
Winks
Winking is a great way to start a conversation with a woman you like. There is no limit on how many winks you may send, and they are completely free.
Chat
Use instant messaging to converse in real-time if you're both online. Each minute of the service costs two credits. Additionally, there is the Let's Talk feature, which makes it simple to start or rejoin in a conversation. You may choose from a list of pre-written questions, which you can then send to a lady. If you want to spice up your online chats, you may send stickers to convey your feelings.
Mail
This application allows you to write lengthy, expressive messages to your love, as long as the total word count does not exceed 3500 characters. Your message may also include photographs. This is a helpful tool if the lady is not online. Upon her appearance on the Internet, she will read your message.
Safety & Security
A number of precautions are taken by FunChatt to protect its users. The site includes identity verification, which ensures that the members are who they claim to be and that the users are protected as a result of this. Verified profiles will have a green Trusted symbol. Photos that users post are also examined.
Additionally, the site uses advanced security measures to protect your personal information and financial transactions. Secure Sockets Layer (SSL) encryption, for example, safeguards your payment information from unauthorized access. All transactions are confirmed by Visa and verified by Visa Secure, McAfee Secure, PCI-DSS, and Norton to ensure the safety and security of your financial information.
The customer support staff on this platform is always ready to assist you. Questions or concerns? Use the "Contact Us" form on your right to get in touch. Any problems you may be experiencing with the site's services and features will be addressed by them.
Pricing
FunChatt does not need you to spend anything in order to sign up. It's also free to use the search function or browse other members' pages. However, in order to interact with other users and utilize extra services, you'll need credits on your account. Even so, there are no monthly costs and you pay for what you use instead of a monthly subscription. A subscription is replaced with credits, the site's internal currency.
Welcome packs of 20 credits are available to all new members to enable them to try out the platform's major features and decide whether it's right for them. A new 20-credit bundle is available for $2.99 once you've used all of them. The credit package prices are as follows:
A package of 50 credits costs $19.99
A package of 125 credits costs $44.99
A package of 250 credits costs $69.99
A package of 750 credits costs $149.99
It's possible to use the following advanced features with enough credits:
communicate in a live chat in real-time
send stickers in an instant chat
attach photos to your mails
send emails even if a girl is offline
watch photo attachments from ladies
Final Words
Males all around the globe admire Colombian women for their beautiful looks and passion. With FunChatt, it's easy to meet and chat with Latin women.
This communication platform's registration procedure is fast and easy. Examine a large number of female profiles and use advanced tools to meet the one you're searching for. A variety of tools and features are available on the site to help you find your ideal partner online. In addition, you'll like the user-friendly design and many useful features available on this platform. There are many different methods for members to communicate with one another.